Black lives matter
Black lives matter
P&M Black Lives Matter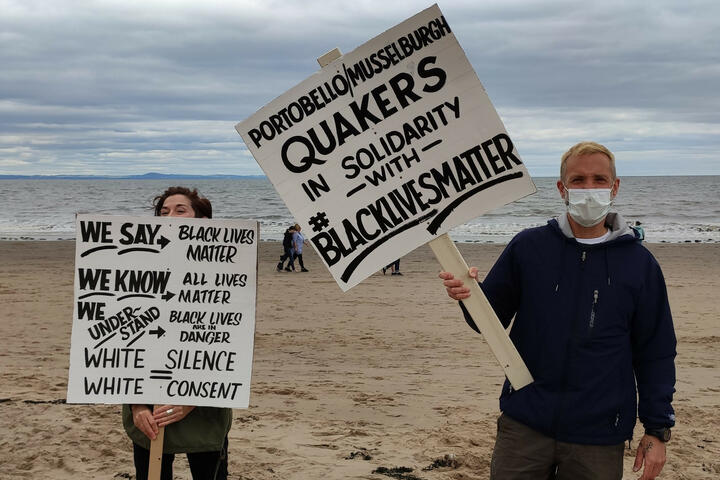 Portobello & Musselburgh Quakers in solidarity with Black Lives Matter -
At Area Meeting on Saturday 27 June, there was discussion of the Black Lives Matter (BLM) movement, prompted by a minute from South Edinburgh local meeting, and a report of a young activist from Polmont Local Quaker Meeting. We recognised that Quakers have a lot to learn, and that this fits in with our work to improve our inclusion and diversity.
Blake Paterson from Polmont reported on their day's action at the Kelpies: they had a list of names of people of colour who have suffered at the hands of the police in the UK including Sheku Bayoh.  We also heard about a protest by Portobello & Musselburgh Friends.
Our first action was to unite with the South Edinburgh minute, which read:
Our local Meeting, like many across the globe, has been reflecting on recent Black Lives Matter protests. 

White Friends in our meeting may not personally experience negative discrimination on the basis of colour nor can we know the institutional racism experienced by people of colour.  It can be difficult for us to see how white privilege exacerbates these injustices and ways in which we too are racist. 

We seek to challenge racism in ourselves and others and want to learn more about systemic discrimination on the grounds of colour, and about how we benefit from this.  We see this as a communal responsibility because racism diminishes us all. 

We trust in the spirit to guide us – and help us to be humble when we are shown our own seeds of racism – opening ourselves to the potential for transformation.

Our Meeting is reminded of positive steps taken in many aspects of life in Scotland and across the world and we remain optimistic about where our reflections and our learning can take us.  We share this minute with our Area Meeting and ask that friends more widely take up our concern.
We have decided to learn more about our implicit role in systemic injustice - especially that experienced by people of colour here and across the world. There were several suggestions for books and films to help us: Why I'm No Longer Talking to White People About Race by Reni Eddo-Lodge; Inglorious empire by Shashi Tharoor; Small Island by Andrea Levy; Girl, Woman, Other by Bernardine Evaristo; Race & Privilege in Europe by Andrew Lane; the Channel 4 documentary The School that tried to end racism; and the BBC TV fact-based drama Sitting in Limbo. We are planning to start groups for our Area Meeting to use these and other resources to explore the issues.
We are on a journey of learning, and different individuals are at different stages on the journey. If we share what we know, understand and experience, we will together be better equipped for the trip.