Supporting Quakers
Supporting Quakers
Quaker work 2.jpg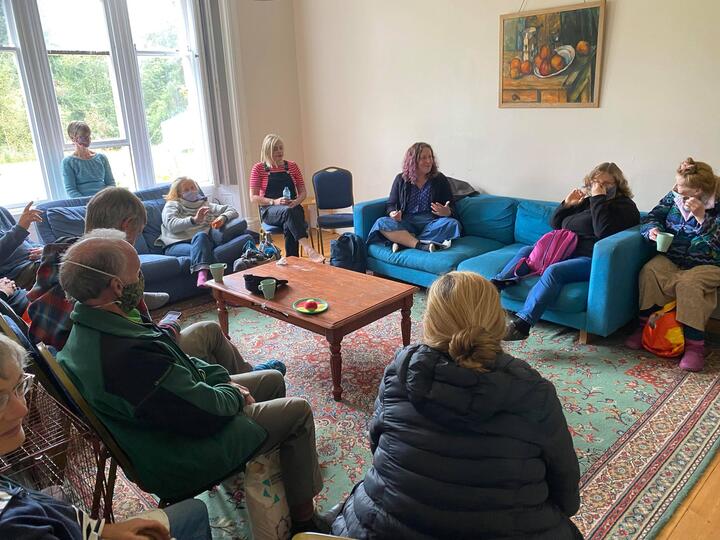 Zoe's role is to support Friends to thrive. This can be as individuals, committees, small groups, Local Meetings, Area Meetings, or part of General Meeting for Scotland.
Here are some examples of support that Zoe has provided:
Example 1
Tweeddale meeting had shrunk to a small size and the way that they met was no longer working for them. I offered to come in and work with them to find a way forwards. They knew that they wanted to continue to worship together and to work to build a greater sense of community. Through their discussions they decided to take the opportunity to experiment. Following a model taken from Young Adult Worship Groups, they agreed to meet in an evening, in one of their homes. The evening meeting would allow those of working age, or with caring responsibilities, to meet at a time that was more convenient. They would follow worship with a meal and try to build a greater sense of community together. They checked this thinking with Friends in surrounding meetings who were supporting them, and were reminded to give themselves time to recover from the stresses and pressures of the last few years.
They will run on the 2nd Tuesday of the month. Do come and support their new way of worshipping together if you able.

Example 2
Another meeting was considering what they should do with a sizable asset, which required a lot of upkeep in terms of time and energy. Opinions within the meeting were split on what should be done, and the area meeting had
asked them to suggest a way forward. Working with a small group of Friends appointed to do this work, I supported their program of activities, preparing for their local and area meetings on the issue. As part of the meeting's
thinking I offered and ran a visioning workshop. This offered the local meeting a chance to consider what their needs were, their history with the asset and the complex mix of emotions attached with any movement forwards.
Feedback included:
"Very uplifting free flowing leadership. Thankyou!"
"Good relaxed safe leadership. Much appreciated."
"Meaningful and gentle dip into our dreams and aspirations."
I supported further fact finding sessions, ran an online meeting to collect the thought of Young Adult Friends associated with the meeting, and assisted the clerk of the final meetings for business.
I/My meeting/worship group needs support - what should I do now?
If you need support as an individual:
Consider coming to Zoe's drop in sessions, which run once a month, please check the newsletter - or email her - to find out the times and dates and get the Zoom details.
If your meeting/group needs support:
First, check that Friends in your group are interested too and get some idea of times, dates and who would be willing to help. Then please get in touch with Zoe to ask her about her availability.
She will contact you for a chat and together you can work out the details.
You can email Zoe at zoep [at] quaker.org.uk.
You can call Zoe's work mobile at 07529225282. She often works mornings, but it is normally best to email her to arrange a time to talk, as her hours are quite erratic.
You can also attend her once a month drop in sessions.