Glasgow Quaker Meeting
Coronavirus Covid-19
Due to Covid-19, Meetings for Worship in Scotland may not be meeting in person. Meetings may be making alternative arrangements online. Please contact the meeting for information. See the advice given to Quaker Meetings for more details.

Glasgow Quaker Meeting House closure (due to COVID-19)

The Meeting House is now closed.
Meetings for Worship will be held by Zoom, starting on Sunday 29 March at 11.00am and Wednesday 1 April at 12.30pm. Friends have been sent details in Elmbank Events or by email, but if you haven't received them, please contact Daphne or Lindesay.
If you would like to join us but are new to Friends, a leaflet entitled Your first time at Quaker Meeting can be downloaded as a PDF file from the Quakers in Britain website.
About us
We are a large Meeting, as Quaker Meetings go, with around fifty to seventy people of all ages.
Our Meetings are open to all and we offer a warm welcome to anyone who would like to join us for worship every Sunday morning at 11 am.
Meeting for Worship Times
Please see notice above.
We also have rooms for hire to organisations whose aims are in sympathy with Quaker views, but these are currently unavailable due to the closure of the meeting House.
Contact details
Wardens: glasgowquakers [at] yahoo.com
0141 248 8493
Clerk: Daphne Wassermann lm [at] aquarius1000.plus.com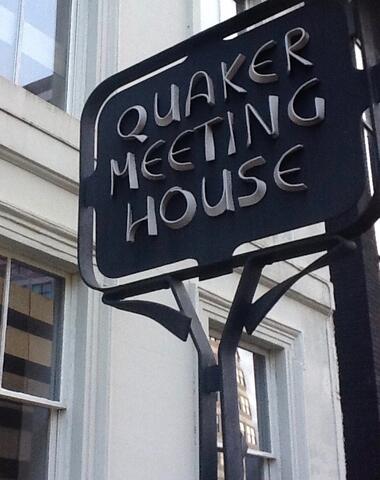 Meeting House
Glasgow Quaker Meeting House is located at 38 Elmbank Crescent, Glasgow G2 4PS and has level access at the back door and an accessible toilet: there is a lift to all floors and we have an induction loop for the hard of hearing.
In the unlikely event of a fire or other emergency, to leave upstairs levels of the building, it is necessary to descend stairs. If this would be difficult for anyone, please do not hesitate to contact us on 0141 248 8493 for further information. We will endeavour to make arrangements to enable access and emergency egress for you, if we can.
The Meeting House is:
Across the street, and 70 yards from Charing Cross Station
A 12 minute walk from Glasgow Central Station
A 20 minute walk from Glasgow Queen Street Station
30 yards from Charing Cross multi-storey car park
100 yards from the Kings Theatre
Bus routes:
Sauchiehall Street and Bath Street: 3, 4/4A, 15, 19/19A, 77
Holland Street: 18
St. Vincent Street: 2
Outreach from Glasgow Quaker Meeting
Members of the Meeting work with refugees, asylum seekers, the homeless, at food banks and in prison.  Others are involved in community building and interfaith activities.  There are also regular walking groups, shared meals and occasional other social events.
There are five YouTube videos available, describing examples of Quaker outreach by members of Glasgow Meeting:
Ruth Wilkinson (The Trustle Trust)
Steve Koepplinger (Get Go Teams)
Michael Hutchinson (Quaker Concern for the Abolition of Torture)
Glasgow Meeting also has the following social media pages:
Facebook accounts:
https://www.facebook.com/groups/GlasgowQuakers.
The Facebook page is for all Members, Attenders and friends of Glasgow Quakers, or anyone seeking Quakers in Glasgow.
It is for sharing up to date information about events, Quakerly discussion and for reaching out to the wider community; for floating new ideas, and for being creative.
Younger Friends also have their own Facebook at Glasgow Young Quakers.  It is a group for young adult Quakers (and Quaker-adjacent folks) in and around Glasgow. Young is loosely defined: under 35ish.
 Quaker Forum
The Quaker Forum is now closed.