St Andrews Quaker Meeting
St Andrews Quaker Meeting
Coronavirus Covid-19
Due to Covid-19, Meetings for Worship in Scotland may not be held in person. Many meetings are making alternative arrangements online. If there's no specific information below, please contact the meeting for information.

Due to Covid-19, no physical Meetings for Worship are being held for the time being. If you would like to know more about online Meeting for Worship, please contact the Clerk at standrews [at] quaker.org.uk.
Meeting Place: Friends Meeting House, 2 Howard Place, St Andrews KY16 9HL (three steps up from pavement level). The Meeting House is a few minutes walk from St Andrews Bus Station and Argyle St car park. There is on-street parking.  Howard Place is just to the east of the distinctive Hope Park & Martyrs Church.
Meeting for Worship: Sunday at 10.30 a.m. for an hour, and Thursday 1.15 pm for 30 minutes.
All are welcome. After Meeting for Worship, we have coffee/tea and biscuits and time to chat, should you wish to stay. 
Children are very welcome on Sundays; the children's meeting also starts at 10.30 a.m. and they join the main meeting for the last ten minutes.  
Simply Quiet
On Wednesdays in term-time, Quakers offer time to reflect in the University of St. Andrews Chaplaincy Lounge. Drop in anytime 1.00 - 2.00 pm. For students and staff, whatever your faith or philosophy of life, come and join us in the silence.
Other activities: We arrange evening meetings in which we explore spiritual and social themes, and we hold regular social events such as Sunday lunches and a summer picnic. There is also a political and social action group - QASTA (Quaker Action St Andrews).
Two local Quakers joined the University Chaplaincy team in January 2018, and students or staff are welcome to contact them directly: - Barbara Davey bd45 [at] st-andrews.ac.uk and Leslie Stevenson ls [at] st-andrews.ac.uk.
Organisations whose aims are compatible with ours may book the rooms for meetings during the week. Contact pambrunt128 [at] gmail.com. 
This page is edited by robin.waterston128 [at] gmail.com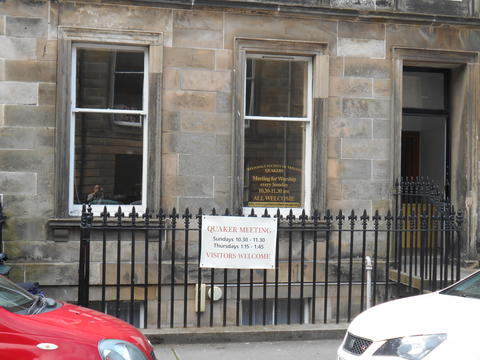 Simply Quiet