A strong house of straw ...
A strong house of straw ...
Strawhouse.jpg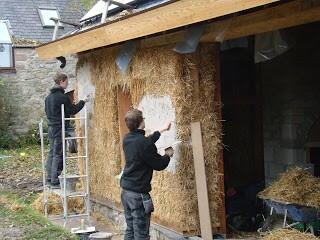 Andrew Collins of Aberdeen Meeting shares how he constructed  a building in Newmachar out of straw bales.
I was working in the University of Oslo, and thinking about where to live when I retired. I was in the fortunate position of having enough land on the site of the former family home (now let) on the edge of a village north of Aberdeen, and savings from the UK pension I'd been receiving since I was 60, so I decided to build an eco-friendly house using straw bales. Just a single storey: living room, kitchen, shower-room, and a sort of attic over the kitchen.
   In the end it took 5 years to complete, with most of the work done in the summers of 2011, 2012 and 2013; friends and family joined in the project with enthusiasm (on account of its novelty), and we had a lot of fun and a great sense of achievement. We were guided by the wonderful book by Barbara Jones, Building with Straw Bales (and by an inspiring episode of Grand Designs).
   The full story of the construction is on my blog, collinsand.blogspot.com, and a speeded up video of  two seasons' work on the new house is on:  Strawbale sequence 2 YT
     Sustainability features include the use of  straw, local (Scottish) timber, lime mortar and some wool insulation. We have solar panels, and a wood-burning stove (currently using wood from dead elms) along with underfloor heating from a wood pellet burner. Unfortunately the foundations are of concrete, and far stronger than necessary, at the insistence of the local building control office for whom strawbuilding was a novel concept. Also, we weren't able to insulate the roof with natural material. An unexpected plus is that the building fills the last side of a square, creating a courtyard garden - a sheltered sun-trap where I even manage to grow tomatoes.
    The total cost (materials and paid labour) was a little over £100K.  Paid contractors put in roughly 800 hours; volunteers (family and friends)  about 1000, plus many uncountable hours spent by me; 1600-2000 would be a guess. I would certainly do it again - no regrets. And I'm happy to give advice, or even practical assistance (within a reasonable distance).