A very brief account of Quakers in Edinburgh from 1653 to 1938
A very brief account of Quakers in Edinburgh from 1653 to 1938
Edinburgh Meeting 1927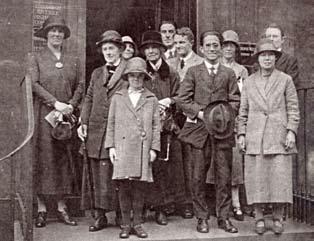 This article was written by David Mealand of Central Edinburgh Meeting and first appeared in Sesame 146.

The photos shows members of the meeting standing at the door of 27 Rutland Street. The photo was taken c. 1927 by Earnest Ludlam, father of Pippa Ludlam who is in the foreground. It was taken on the departure of a Japanese Quaker couple who had been visiting Edinburgh for some months. The photo also shows Andrew Farrar's paternal grandparents.

Two Quaker missionaries came to Edinburgh from the North of England: John Bowram preached at the Mercat Cross in 1653, and William Caton came in 1655 and held meetings in the city (Burnet, 1952, 18-19). Cromwell's army had come to Scotland in 1650, and James Nayler had preached near Dunbar in that year. A retired soldier Lt. Col. William Osborne held meetings in his house in Edinburgh in 1655-1656. George Fox came to Scotland in 1657, met with Col. Osborne, went to a meeting in Leith, and held a meeting on Castle Hill. By 1665 large numbers met at the house of James Brown in the West Port (Marwick, 1948, 8). Regular organisation was set up in 1669.
By 1675 land in the Pleasance was used for Quaker burials. In 1681 a house in the West Port was bought - though it seems to have been in constant need of repair. One  prominent member by 1690 was  William Miller, the royal gardener, whose descendants (several also  called William) feature in later  generations. In the 1690s there was  local persecution in the city, (the  Act of Toleration did not extend to  Scotland). Some meetings took place  in or near the Tolbooth gaol. Records  of MM from 1669 onwards are listed  as being in the National Archives of Scotland (Record CH 10/1). Even  as late as 1720 soldiers were paid to guard the meeting house door from  the mob! (Burnet, 1952, 152).
In 1730 a meeting house to hold 600 was built in Peebles Wynd off the Cowgate. A separate "bread and cheese" meeting was held at Meadowfield in the Canongate on his own premises by the third William Miller. By 1785 the South Bridge was due to be built and the city planners had three streets demolished. One of them contained the meeting house in Peebles Wynd which came down in 1789. It had been in one of the poorer and rougher parts of the city. With compensation money, and some help from the sale of a meeting house in Glasgow, a new meeting house was built in the Pleasance in 1791 next to the Quaker burial ground. The meeting there continued till 1944. There is a drawing of this building at the foot of the stair, near the foyer, at the present Victoria Terrace Meeting House. The building still survives at 60 The Pleasance, but has been used for photographic work by the University in recent times.
The meeting in the Pleasance was a source of much activity in Victorian times. Edinburgh Friends campaigned against slavery, they opposed the corn laws, and they supported the campaign for votes for women. Harry Armour and Stephen Wellstrode were amongst those involved. Supporters of temperance turned up to make their case at sessions of the licensing court. Henry Wigham worked for the peace conference in Edinburgh in 1853, John Wigham supported schools for the destitute, and Eliza Wigham supported the cause for a local savings bank in 1859 - the Newington Penny Bank. They also set up an Edinburgh Friends Literary Society, whose president was William Miller. (All this in more detail in Marwick, 1969)
On 7th Dec. 1924 another Edinburgh meeting began first at a YMCA room in St. Andrews St., then on 4th January 1925 in a room rented from the Women Citizens Association at 85A George Street, then on 4th Sept. 1925 at rented premises in 27 Rutland Street, when the WCA moved there. On 28th May 1933 the first meeting was held at rented premises in 22 Stafford Street. In 1938 premises at 28 Stafford Street were purchased and on 25th December 1938 the first meeting was held there.

Burnet G.B., The Story of Quakerism in Scotland, 1952
Butler D., George Fox in Scotland 1913
Butler D.M., Quaker Meeting Houses of Britain, 2 vols, 1999
Marwick W.H., A Short History of Friends in Scotland, 1948
Marwick W.H., Quakers in Victorian Scotland, JFHS, 52, 1969
https://wiki.familysearch.org/en/Edinburgh_Nonconformist_Church_Records
(See subheading: Society of Friends, Quakers)

I am also grateful to Andrew Farrar for information about the meeting places in 1924-1938.