Not guns but roses: Quakers oppose the Underwater Technology Defence Conference
Not guns but roses: Quakers oppose the Underwater Technology Defence Conference
Quakers at the Underwater Technology Defence Conference at the SECC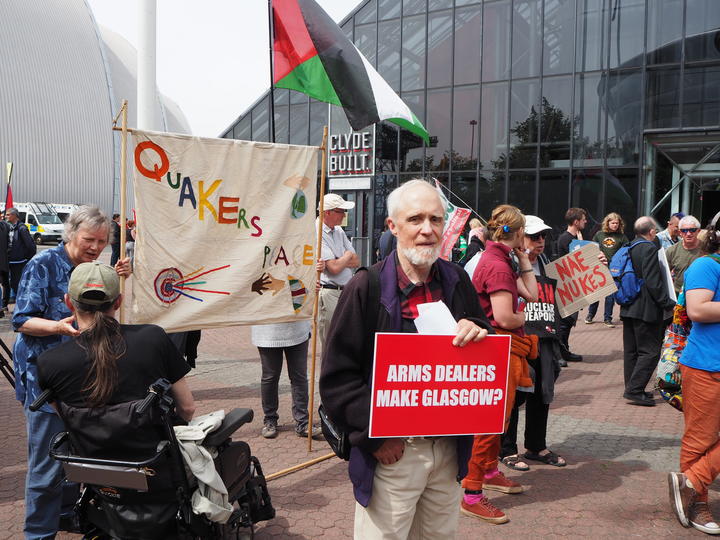 Quakers at the Underwater Technology Defence Conference at the SECC
Before the recent  arms fair in Glasgow, ​Quakers in Tweeddale delivered a bunch of white roses to Susan Aitken, the leader of Glasgow City Council, with a letter expressing dismay that the Council had ​supported the decision to hold the fair, ​the Underwater Technology Defence Conference, at the SECC in Glasgow.
This conference​, held at the end of June,​ provided​ a selling platform for some of the world's biggest arms producers and among the customers were​ countries  inflicting dreadful suffering on people in, for instance, Yemen and Gaza. The Campaign Against the Arms Trade organis​ed​ demonstrations to draw attention to this  decision and to plead that it is never repeated​.​
Helen Holt,  of Tweeddale Quakers who originated the idea of sending flowers, said, "'We recognise that the issues surrounding defence technology are complex, but we hope that the gesture of sending flowers will inspire people to think about, work towards and invest energy in the type of world we all want to see - one symbolized not by guns but by roses.'  
M​any Quakers attended the SECC demonstration which was peaceful and positive​​. Before it, in response to protest, the Council had removed the "People make Glasgow" strapline from the conference publicity​ and a very effective display at the demonstration referred to this, "People make Gaza"​.
People make Gaza
Tweeddale Quakers subsequently received a reply ​to their letter ​from Susan Aitken:
​While we have a responsibility to support and promote the positive economic impact generated by the convention and events sector, we also understand that some people have expressed their opposition to this conference being held in the city. The City Government has therefore asked the Glasgow Convention Bureau to re-examine policies and procedures with regard to any support associated with winning convention and conference business for the city, so that, in addition to financial and economic criteria, the policy will examine wider strategic aims including being a human rights-supporting city and other ethical concerns.
We were pleased to contribute to an event which was successful in encouraging Glasgow City Council to reflect and examine their policies. Hopefully such a​n arms fair​ will never be repeated.