Quaker prison chaplaincy
Quaker prison chaplaincy
Leaflet about Quaker group in HMP Edinburgh; Copyright Ian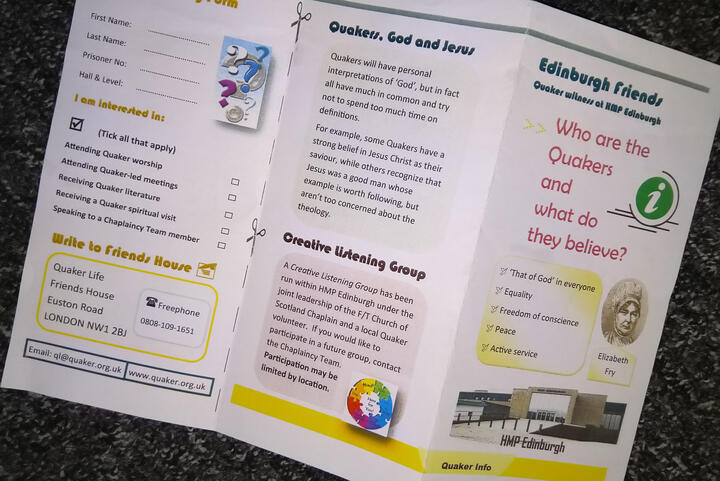 Leaflet about Quaker group in HMP Edinburgh; Copyright Ian
Jenny Copsey, South East Scotland Area Meeting Prison Chaplain, writes about her work in HMP Edinburgh

Being able to help prisoners has for so long been a wish of mine and yet it is difficult to pin down its origin. Like many of us, seeing a person or an animal incapacitated or without agency raises the desire to offer help; and losing one's freedom to make the simplest of choices while being controlled by a rigid regime of conformity has been my image of prison life. Since becoming the Quaker representative at HMP Edinburgh I have been introduced to the extent of a very soul shrivelling system. Yet I am still impressed by the way inmates and prison officers can be cheerful on a daily basis and this gives me reassurance that the strength of the human spirit is alive and well.
The full time Church of Scotland chaplain and I have successfully negotiated the idiosyncrasies of the prison system and completed our "trial run" of Quaker groups for Creative Listening. The men who attend are all long-term prisoners and have become more and more enthusiastic in their attendance and ability to speak for themselves. They have registered their appreciation of our readings from Quaker Faith & Practice and their chance to have some silence, along with the confidential space to share their thoughts. "Lock downs" happen, and in the past prison officers forgot to bring them along but all these hindrances give the men important issues for discussion at our next meeting. Several times disappointment, anger and the impotence of being in prison may lead to active decision making. One of the prisoners has produced a leaflet about our group and Quaker thinking. He wants to distribute copies amongst inmates on other "flats". He was the initiator whom I met a couple of years ago at the Carol Service run by the Salvation Army and Prison Chaplaincy, and it is thanks to him and his previous experience of a Quaker Group in Peterhead Prison that we meet today. I am not sure what we will do if more people want to start a similar group but for the moment the "Quaker Group" has been given a regular slot in the schedule of Saughton. A Meeting for Worship is also proposed, but arranging it is taking some negotiation with the authorities who have the complicated job of managing the security.
Our financial contributions to those prisoners who are without access to funds continue to be valued highly and last year there was an additional contribution to the fund from a Catholic Church in Glasgow. We supply postal orders to give people the chance to make important or personal phone calls or buy small items at the canteen, but equally not enough to attract the drug gangs. The experience I am having is that agency is being felt by the prisoners in the group and they all speak of others who want to come along. When a man tells you that when he was on suicide watch and received a letter that helped him, you know the message is good. Going into the prison is a rather 'blind faith' experience, because you never know what is happening other than that security is overarching. Within those restrictions if prisoners can discover their own sense of self and that of God within their lives surely the system may become a more humane and loving environment.
I began this journey wanting to be helpful but this has become a venture with the prisoners that we can all enjoy and develop together.
Leaflet about Quaker group in HMP Edinburgh; Copyright Ian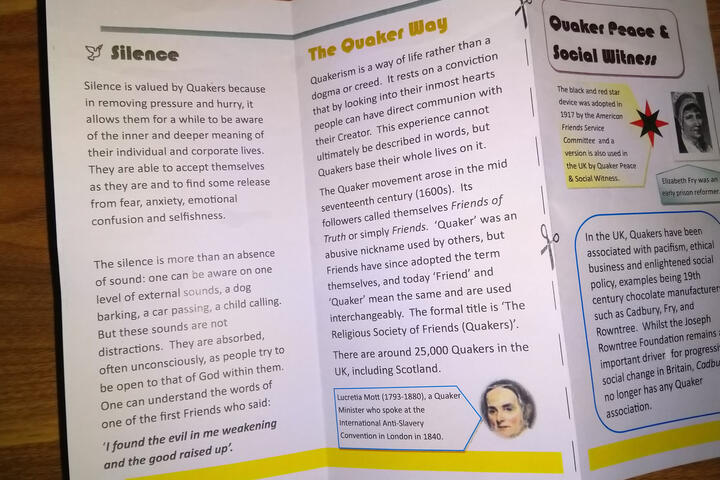 Leaflet about Quaker group in HMP Edinburgh; Copyright Ian