Peace at the Heart
Peace at the Heart
Thursday, 23 February 2023
Peace at the heart pic.png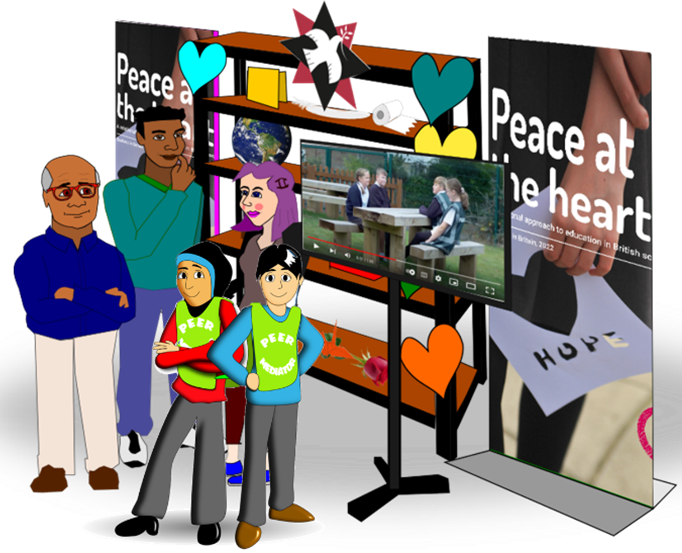 Peace at the Heart exhibition
What is it?
Quakers in Britain are creating a travelling exhibition to engage communities and parliamentarians in peace education. The Scottish Parliament will host the exhibition from 26-28 September 2023. It will feature multimedia examples of peacebuilding at the heart of schools, from young peacemakers mediating disputes to action on global issues. Peace artefacts will encourage curiosity and critical thinking. Accompanying workshop opportunities will give children and young people the chance to interact and add to the exhibition. 
Origin of the exhibition
The exhibition stems from a report, Peace at the Heart: a relational approach to education in British schools. Read the report and watch a series of short films showing peace education in action at:
www.quaker.org.uk/peace-education-case The report shines a light on the inspiring peace work already happening in schools and calls on the UK, Scottish and Welsh governments to support peace education in line with their international commitments as members of the United Nations.
A 2022 cross-party motion in the Scottish Parliament agreed with the importance of peace education and encouraged schools and local authorities to put peace at the heart of education. It was signed by over a third of MSPs.
Could you host the exhibition?
Would you like to engage your school/local community in peace education? We are looking for schools, Quaker Meeting Houses and other community venues to host the exhibition. The growing exhibition will then gather ideas for building peace as it makes its way to Parliament. MSPs will be presented with a picture of how peace education is helping Scotland and the world. 
What's involved in hosting the exhibition?
Venues will need space for the freestanding exhibition: which will be around 10 m². Hosts would look after the exhibition for as little as a few days or as long as two weeks, sometime between April and September 2023 (alternatively in the autumn, after the parliamentary exhibition). It doesn't need to be staffed continuously, but it'd be great if volunteers could encourage participation at certain times. Hosts can also help engage
the local community, perhaps by contacting the local paper or inviting people to a launch. Hosts will also need to arrange for the assembly and dismantling of the exhibition for transport (costs reimbursed). Quakers in Britain staff will provide support and guidance throughout the process.
Find out more
To find out more, contact Zoe Prosser, Local Development Worker for Scotland, Quakers in Britain. Email: zoep [at] quaker.org.uk. We are hoping to secure firm commitments to be involved by 27 March 2023 to enable us to plan the logistics.