COP26 Groups and Resources
COP26 Groups and Resources
20210806_130414.jpg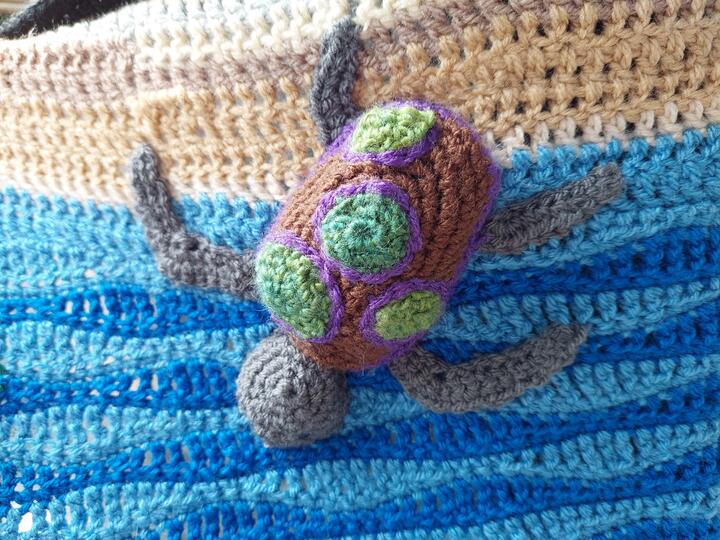 Crochet panel, created by Quakers working with the Loving Earth Project.
Quakers are represented on the two main coalitions of groups working on preparation for COP26.
On this page:
COP26 Groups that we are partnering or involved with.
Resources - Information
Resources - Activities
COP26 Groups
Stop Climate Chaos Scotland is a diverse coalition of over 50 civil society organisations in Scotland campaigning together on climate change.
The SCCS Coalition has close links with The UK Climate Coalition based in England and work with them on cross-border issues when appropriate. But Scotland faces many challenges relating to climate change that are quite different from England and Wales. Much that affects climate change emissions and adaptation is devolved from Westminster to Holyrood, for example housing, transport, energy and education. The cultural, educational, legal, social and geographical context is different and Scotland's renewable energy potential is considerable.
Stop Climate Chaos Scotland (SCCS) operates through working groups, which are made up of people representing member organisations. These working groups plan and deliver the campaign activities.
There are three working groups in the SCCS Coalition:
International.

Policy and Advocacy.

Public Campaigns.
Quakers are represented on these groups. For more information contact Kat Jones at kat [at] stopclimatechaos.scot.
UK Coalition
The UK Coalition represents over 100 organisations across the UK, including the Women's Institute, Oxfam, the National Trust, and the RSPB and has links with the UK Government. The following Working Groups currently take forward the plans of the Coalition:
For a calendar of their awesome events, please go here.
For more information about there work, please go to their facebook page Edinburgh COP 26 Coalition - Home | Facebook
Loving Earth Project
The LOVING EARTH PROJECT celebrates people, places, creatures, and other things that we love but which are threatened by growing environmental breakdown. It offers a way to help people engage creatively and constructively with the issues, without being overwhelmed. It also offers a way to share initiatives and your reasons for taking them with a very diverse audience.
For more information, go to Loving Earth Project – Caring for the World We Love (lovingearth-project.uk)
Interfaith Scotland
Interfaith Scotland are holding some events and talks to mark COP26. They also have some resources for climate action. 
For more information, go to Interfaith Scotland – Making a difference through dialogue
Resources - Information 
Here are some resources for further reading:
Woodbrooke Climate Crises Courses
Provided by the Quaker Study Centre, Woodbrooke, these courses investigate the climate crises, climate justive and how we can make change happen.

From Paris to COP26 - UN House for Scotland
A programme of events organised by United Nations Association Scotland from late September to late Octobe. Its purpose is to inform/inspire, encourage people to sign (symbolically) the Paris agreement and change behaviour using the sustainability toolkits being promoted. For more information, please go to the website From Paris to COP26 | UN House Scotland (unhscotland.org.uk)

UN climate talks: 6 ways for Quakers to secure our climate future
A Quaker Funded Activist Support Coordinator looks at how Quakers can share their vision for a sustainable and just climate future ahead of crucial COP26 talks this November.

Quaker United Nations Office: How to be a hero for all our children
How to be a Hero for All our Children: A People's Climate Toolkit

 

is a guide to personal and political climate action. Gathering climate science from the latest reports of the Intergovernmental Panel on Climate Change (IPCC), alongside suggested personal actions and questions for politicians, "How to be a Hero" is an accessible resource to share with local communities and as part of educational initiatives.

Climate Change the facts
Sir David Attenborough looks at the science of climate change and potential solutions to this global threat. Interviews with some of the world's leading climate scientists explore recent extreme weather conditions such as unprecedented storms and catastrophic wildfires. They also reveal what dangerous levels of climate change could mean for both human populations and the natural world in the future. 
Ted talk: Pavan Sukhdev: Put a value on nature!
Every day, we use materials from the earth without thinking, for free. But what if we had to pay for their true value: would it make us more careful about what we use and what we waste? Think of Pavan Sukhdev as nature's banker - assessing the value of the Earth's assets. Eye-opening charts will make you think differently about the cost of resources.
Resources - Activities
Join the COP26 Prayer Boat Fleet
Christian Aid are joining the Young Christian Climate Network (YCCN) in a pilgrimage for climate justice. You can help amplify their calls for change, by creating a prayer boat. We are building a fleet of prayer boats that will set sail for climate justice and cannot be ignored by world leaders.
Download the Prayer Boat Activity Pack from Christian Aid's website - available here https://www.christianaid.org.uk/pray/prayer-chain