St Andrews Quaker Meeting
St Andrews Quaker Meeting
Meeting Place: Friends Meeting House, 2 Howard Place, St Andrews KY16 9HL
Meeting for Worship: Sunday at 10.30 a.m. for an hour, and Thursday 1.15 pm for 30 minutes.
All are welcome. After Meeting for Worship, which lasts one hour, we have coffee/tea and biscuits and time to chat. Children are very welcome; the children's meeting is at the same time and they join the main meeting for the last ten minutes.  E-mail enquiries to: robin.waterston128 [at] gmail.com (subject: from%20Quaker%20Scotland%20website)
St. Andrews Meeting House is a ground-floor and basement flat in Howard Place, which (confusingly) is the west side of Hope Street. Meeting for Worship and refreshments are held in the two ground-floor rooms, but there are three steps up from pavement level.
Organisations whose aims are compatible with ours may use the rooms for meetings during the week.
The Meeting House is a few minutes walk from St Andrews Bus Station and the Argyle St car park. There is also on-street parking.     2 Howard Place is just behind (north of) the distinctive Hope Park Church.
    This page is edited by robin.waterston128 [at] gmail.com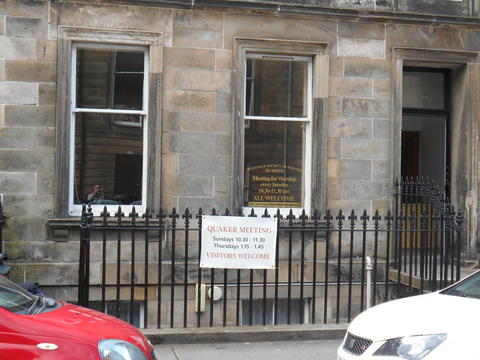 Map