Dundee Quaker Meeting
Dundee Quaker Meeting
Meeting for Worship (30 Whitehall Street DDI 4AF)
Address for correspondence - 7 Whitehall Crescent, Dundee, DD1 4AR
Meeting for Worship is held every Sunday at 11:00am at 30 Whitehall Street DDI 4AF.  We are committed to ensuring our meeting is accessible to everyone: there are no steps into this building and a lift to the first floor.
Sometimes our Meeting for Worship is silent for the whole hour, sometimes there is ministry. Usually there are about 15 participants, seated in a circle. Visitors and newcomers are particularly welcome. After Meeting tea and coffee are available and many stay to chat.
If you have any queries about the Meeting, please contact Martin Pippard: clerkdundeequakermeeting [at] gmail.com.
Meeting House (7 Whitehall Crescent DD1 4AR)
In the heart of Dundee, this listed building is a friendly venue for your meeting.  The rail and bus stations, and the exciting new waterfront development (including the V&A Museum of Design and the Discovery Centre), are all within a 5 - 10-minute walk.
Rooms on the first and second floor are available for rent by groups in sympathy with Quaker values.
Mezzanine floor: Small room (used mainly by counsellors)
First Floor: Large meeting room (seats up to 35), kitchen, coffee room, toilets
Second Floor: Three smaller rooms and a toilet.
Please note that all rooms are accessed via stairs so they may not be suitable for people with limited mobility.
To enquire about renting a room, please contact Marion Sharkey dundeequakermeeting [at] hotmail.com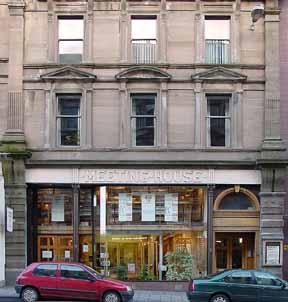 Map