Dundee Quaker Meeting
Dundee Quaker Meeting
Meeting Place: 30 Whitehall Street, Dundee DD1 4AF (1st floor lift available)
Address for correspondence: 7 Whitehall Crescent, Dundee, DD1 4AR
Meeting for Worship: Sunday at 11.00am:
Contact: Andrew Phin, Clerk - 01382-775 545
Visitors are welcome. Afterwards we have coffee/tea and biscuits and time to chat. 
Dundee Meeting House is on the north side of Whitehall Crescent in Dundee City centre and is easily recognised by the distinctive lettering, "Meeting House", carved in the stonework lintel above the ground-floor offices presently occupied by a solicitors' property centre. However due to access difficulties the Meeting for Worship on Sundays is held in 30 Whitehall Street (around the corner - about 100 yards), there is a lift to the 1st floor.
Originally the intention was that all four floors and attics of 7 Whitehall Crescent, should be used as: "a Friend's Institute, with Meeting House, reading room, library and class rooms or recreation rooms on the ground and first floors. The second and third floors and attics are to be let in the meantime. ....(1891)"
This ambitious Victorian scheme has never been realised and for a period in the 1920's and 30's the whole building had to be let in order to relieve a dire financial situation. It was only in 1943 that the Dundee Friends' Property Trust was able to clear the original debt incurred on the building.
At present the Meeting Room, Library /coffee room and kitchen occupy the first floor and there is a children's room on the second floor. The rest of the building is let. Access to the Meeting Room and library/coffee room is from the street via a steep flight of stairs with a halfway landing and there is no lift.
The Meeting House is also used during the week by other groups whose activities and principles are compatible with those of the Society of Friends, and individual Quakers at times use the building for special purposes. (Contact: dundee [at] quaker.org.uk)
Directions to Whitehall Street:-
FROM TRAIN STATION: follow signs to City Centre, crossing the road by the pedestrian crossing; cross the end of Union Street to reach Whitehall Street, number 30 is on the right hand side of Whitehall Street, above an empty unit.
FROM BUS STATION: follow signs for City Centre, along Seagate and High Street, past City Square on left, then second left into Whitehall Street. Number 30 is on the left hand side as you do down the hill.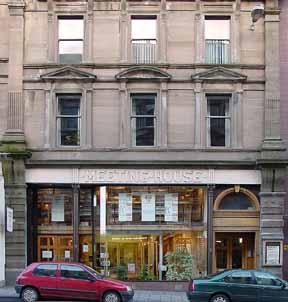 Map